On occasion of the closure of the exhibition, another article has been published on the Weöres 100. This time, Gabriella Molnár emphasized several applications in the cultural part of the September 13th issue of Népszabadság. From the creators, Bence Samu talked about the poetic aspect of "Gondolatfújás". Following its finish on September 30th the exhibition will move to Debrecen and it will be on display in Szeged thereafter.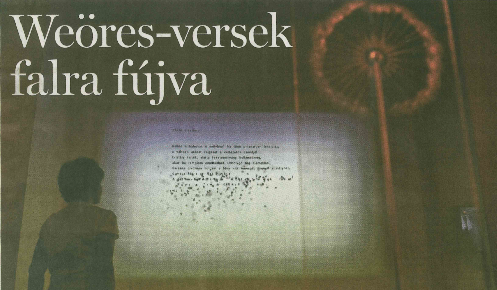 (Source: Népszabadság)
On September 25th the Déri Museum opens its permanent exhibition introducing the city's poets. The MOME TechLab team was trusted with rendering the exhibition in a playful and attractive manner. In the exhibition the poet's thoughts circulate upon the walls in the room of Gábor Oláh. From the writers being introduced, new faces - and corresponding poems - can be (re-)arranged and further a discourse in literature is encouraged. The creative minds behind these applications are: Gáspár Hajdú, Dániel Karasz, Gábor Papp, Zsófia Ruttkay and Róbert Sárosi.
Zsófia Ruttkay is one of the invited presentors on the XII. National Convocation of Museum Pedagogy, where she talks about the MOME theoretical institute's and the TechLab's joint course, named Digital Museum. Within the framework of this course, held for the fourth time with this fall, the interdisciplinary teams consisting of students from MOME and the Budapest University of Technology and Economics give recommendations to leading museums on how they can apply digital technologies to enhance the experience provided by them. The event's host is LUMU - consequently, the student project dubbed " Artpiece-Analysis-Machine" is one of the examples in the presentation.
The Little Rooster and His Diamond Halfpenny the interactive childen book of TechLab was invited to the Digital Children's Book Fair in Japan between 29th and 30th August. The Fair focuses to the recent digital technologies and interactive possibilities of children books every year with more than 74.000 visitors.
Read more...
« StartPrev1112

13

14151617181920NextEnd »
Page 13 of 27